Wendy will provide a variety of hair extension solutions to meet every need and budget. From custom human hair to synthetic, she can find the right extensions to meet your lifestyle!
Think hair extensions only result in straight, long locks?
Think again! Today's hair extensions come in a variety of lengths, textures and materials.
From real human hair to synthetic…from long to short…curly to wavy, blonde to black Hair extensions can help you achieve any look!
Here are some questions and answers that might help you.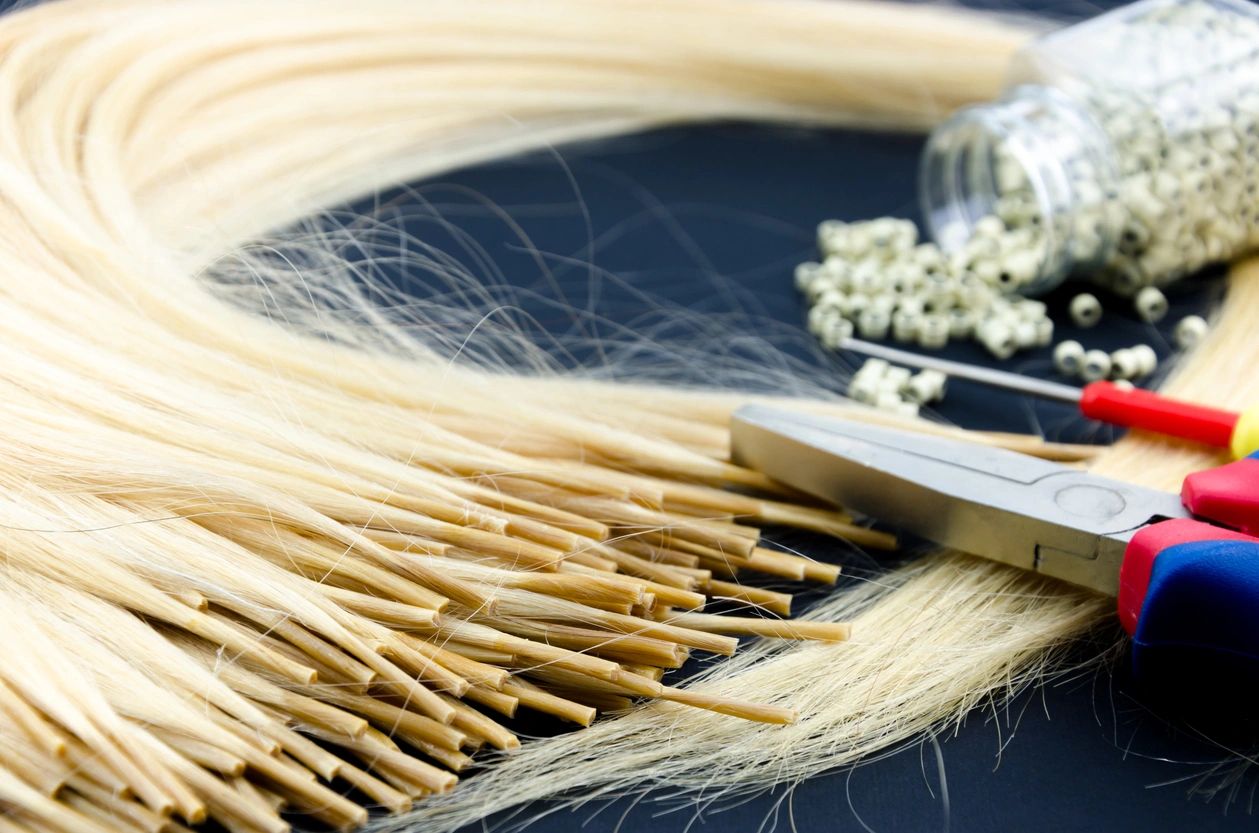 There are many different types of Hair Extensions out there these days. They have been around for years, however in the past 10 years the market has increased dramatically. Here at Stylist1 Hair Salon we offer the following in the Extension services….
1. I-tip which is used with an individual strand of hair. Which is also called the bead method. It is easily reusable.
2. U-tip which is adhered to the hair with an individual strand. Which is also called the fusion method, Cold Fusion, or Hot Fusion.
The cold fusion method is used with no heat and is used with a tool that releases ultra sound to apply the bond to the hair.
The hot fusion method is used with a heat tool to bond to the hair.
3. Skin weft which is a flat panel method that can be cut and customized to the client's hair that is applied with an adhesive tape and is easily reusable. Clients often like this because of the base appearing more like the human scalp. It is also sometimes called the flat method.
4. PU flat panel method which is precut and applied to the client's hair with adhesive tape. This is also easily reusable. This is also sometimes called the flat method.
5. Sew In methold. Which are wefts of hair customized to each client's head. There is a flat long braid made across the client's head, and the hair is then sewn to the braid. This is sometimes referred to as weave in extensions.
6. Bead in weft method. This method is an individual bead holding the customized wefts to the client's hair.
7. Synthetic method. This is where we braid or bead synthetic hair individually into a strand of the client's hair. This method provides double the volume as the human hair strands. Excellent in Humid Clients such as Florida!!!
8. Synthetic bead method. This is where we apply double stranded synthetic hair into an individual bead. This method also provides double the volume.
9. Clip on Hair Extensions. Which is custom fitted to the client's head or just sold out of the box.
At Stylist1, we try to teach you, with proper maintenance, how to care for your hair extensions for several months.
We will recommend the proper hair extension products for your individual needs. Available for sale in our salon and in our online store.
Here we do a complementary consultation before any service is started. Wendy will show you several different types of hair to choose from for your individual hair needs. Some of the types of hair are the following....
European Hair
Ukrainian Hair
Indian Remy Hair
Remy Hair
Synthetic Hair
This is popular question, basically remy hair is where the cuticles of the hair are all running in the same direction to help avoid tangling of the hair.
When the extensions are applied, as long as they are applied by a professional hair extensions specialist there should be no damage to the hair. Proper maintenance at home is required. Along with maintenance of the hair extensions by a professional hair extensionist every 4-6 weeks is recommended. For example, some of the following rules are highly recommended when wearing hair extensions.
Wear your hair in a ponytail or braid while sleeping.
Do not wash hair every day. Skip a day or two.
Use fingers to make sure bonds are separated in the hair and not tangled from sleeping or sports or daily use.
Use the recommended brushes to brush extensions using a leave in spray lightly to brush the hair. Also hold the extensions in your hand or hold the head so less pulling occurs.
Do not use a round brush when drying extensions to avoid pulling from the scalp.  Also blow dry hair in small sections.
Use the recommended shampoos, conditioners, leave in sprays and shine oils. These will keep your hair from drying out during daily use.
When swimming, put in conditioner in the hair and then rinse hair immediately and apply conditioner until you can go home and properly do your home maintenance.
We have a private by appointment only environment or she can come to you for a consultation and work with your individual needs.
call today (561) 348-0399 OR EMAIL [email protected]
In the meantime, feel free to contact Wendy at [email protected] with any questions you may have about Hair Extensions. HAVE A BRIGHT DAY!!
​We have a private by appointment only environment or she can come to you for a consultation and work with your individual needs.
call today (561) 348-0399 or email [[email protected]]